360 Media Direct: Maintaining Hope in the Time of COVID-19
We here at 360 Media Direct take the current COVID-19 health crisis very seriously. We have transitioned to a fully remote work model for all employees and have canceled all in-person events and travel until further notice. We are keeping up with the news and our hearts go out to everyone who has been impacted by this pandemic in any way. We understand that this is a difficult time for everyone, so we are trying to do our part to provide a little bit of a respite with an update on how we're maintaining hope in the time of COVID-19.
While we miss seeing our clients, coworkers, and communities in-person, our team is taking this in stride. We are sincerely grateful that we are able to continue offering our services to our all with little interruption. We applaud all everyone doing their part to help each other, stay positive and even innovate during this time.
Updates for our clients
As you know, all our in-person events and meetings are postponed until further notice, but we are readily available for you should you have any questions, concerns, or new ideas. Many of us also now have little ones home since school and daycares have closed. While it might take us a tad longer than normal to respond to emails, phone calls, etc, we promise we are working diligently to serve you while also balancing this new normal.
We continue to focus on keeping our marketing engines running despite the challenges playing out in our global economy. In addition to continuing operations, we are here for you if you have a unique business need or goal that has emerged during this crisis. We have developed new channels of reaching customers who are now relying on trusted media content to help them stay informed and engaged now more than ever.
Updates for our Communities
We check-in and care for our colleagues and our larger community around us. Some of the personal acts of caring that our team has demonstrated include:
delivering non-perishable food goods to organizations in need
grocery shopping for our elderly neighbors
and even creating a music video to educate children on the importance of washing hands
[Exhibit A: https://youtu.be/pG_6siHXY3s]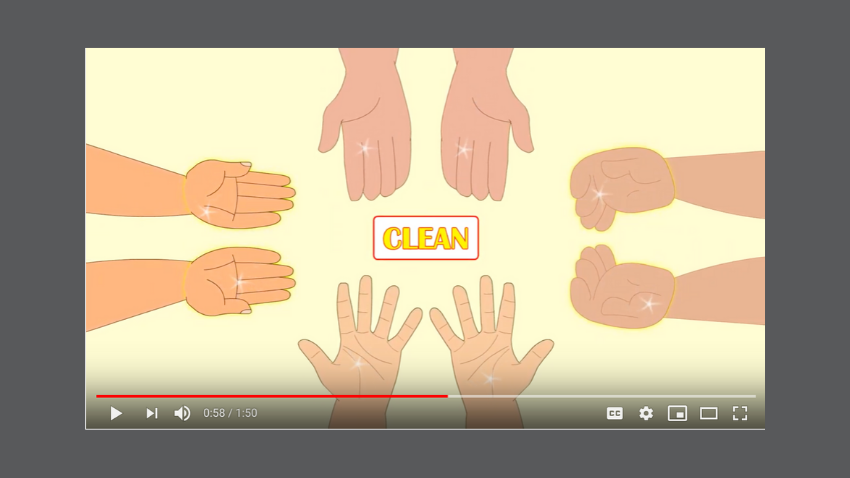 Updates from our Employees
While we are all working from home, we rely on tools like Zoom, Slack, and Google Hangouts to keep up with healthy communication and collaborate virtually. We have video conference calls regularly (Exhibit B: Tech updates from Tom with fun Zoom backgrounds) and we can always count on someone on the team to do something to boost morale or make us smile (Exhibit C: Kurt Potts at our Digital Morning Huddle on Slack).
[Exhibit B]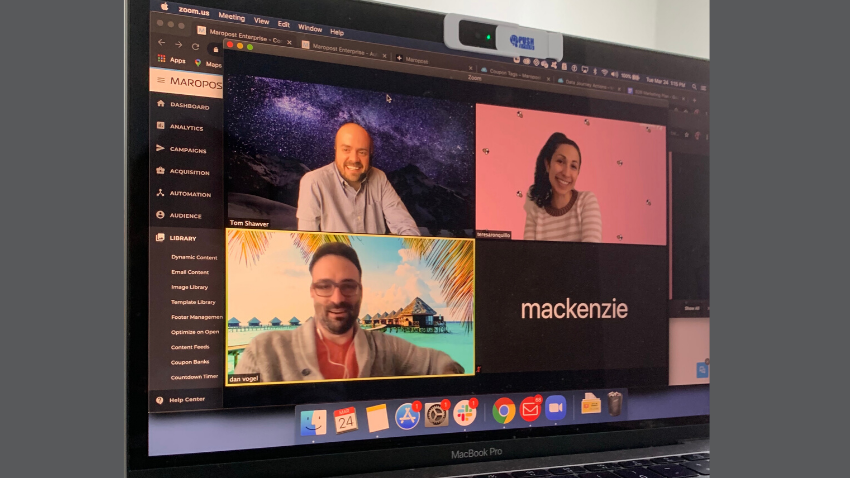 [Exhibit C]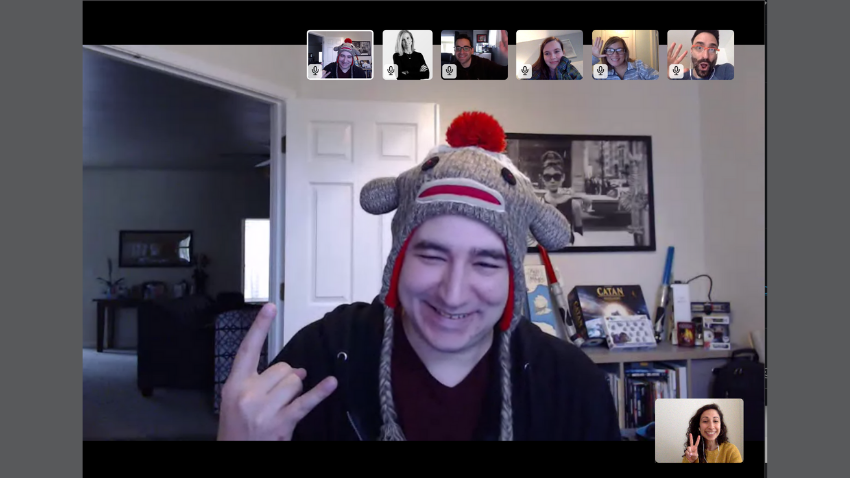 Kelly Vucovich, our founder & CEO, is a role model for safety as she shares with the team her gear for going outside these days. [Exhibit D]. Brian Knowles, our COO, shows off his WFH uniform: business on top, shorts and cozy socks on the bottom.
[Exhibit D][Exhibit E]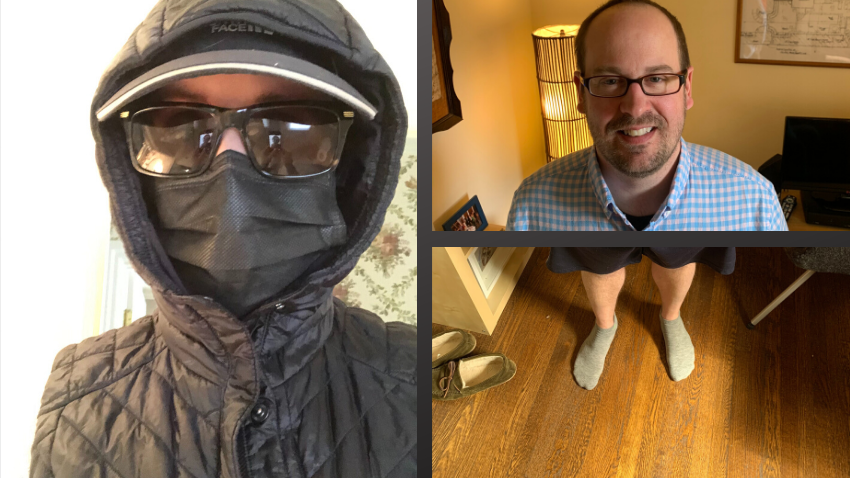 We all have an array of new "co-workers." For many of us, we are sharing work-from-home spaces with partners who are also now WFH, AND sharing these same spaces with our children who are learning from home since daycares, schools, and even colleges have closed. Last but not least, our pets are having to adapt to many of us being around more often. Our dogs watch us contentedly throughout the day and our cats are busier than ever entertaining and judging us humans.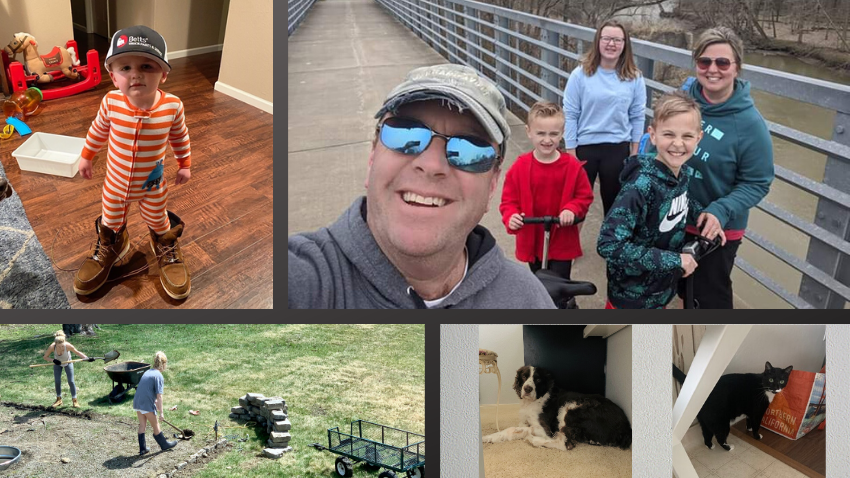 [Top left: Alison Gehrett's son ready for duty in his dad's work boots. Top right: Scott Porterfield goes for a walk with his family. Bottom left, Chris Jones, CIO, sees his daughters building a fire pit in the yard from from his new work window. Bottom center: Brianne Hernandez's pup takes a break under her desk. Bottom right: Jessica Giomi's cat being a cat.]
This is all an unprecedented and unpredictable time for us all, so we are turning to each other now more than ever to stay motivated, focused, and hopeful as a distanced but cohesive team.
Again, please feel free to reach out to us on any of our channels if you have any comments or questions. We understand that there is a lot of news and content circulating right now around COVID-19 and the effects it is having our lives, both personally and professionally. Let us know what is resonating with you.